Joined

May 1, 2020
Messages

1
Reaction score

0

SHADOW MU ONLINE SEASON 15 x5000
GRAND OPEN 01/05/2020
Free VIP 5 days for all players registering within the first week.
Opening Time:
UTC -3 - 13.00 - Argentina
UTC +2 - 18.00 - Poland
UTC +7 - 23.00 - Vietnam
UTC +8 - 24.00 - Philippines
https://www.shadowmu.online
https://www.facebook.com/ShadowMUSeason15
https://discord.gg/3gz4szR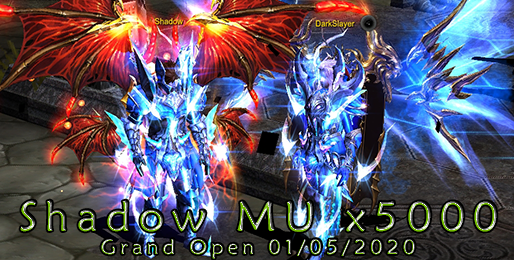 GOOD BALANCE PVP
Overview:
Shadow MU is a high experience server with uniquely balanced PVP and PVM systems for FUN gameplay and item hunting. We offer unique invasions every 30 minutes, exciting bosses, and a fun and competitive atmosphere for players of every nation.
The admin team is friendly and dedicated with a great passion for MU Online. We bring back the good MU online that eat our childhoods! Good times…
We put many months into preparation of the server to bring you the very best in MU Online Season 15. Try now and do not regret.
Version:
Season 15 Episode 3
Experience: x5000
Max stats: 32KReset Stats, 500 points per reset.
Spots: Spots (8 mob) and Hot Spots (12 mobs) on all maps.
Unique PVP System:
Unique strength and weakness PVP System.
Every character has a unique strong and weak matchup.
We are dedicated to make sure that every character class has a chance to make a difference.
No class will dominate PVP.
For Example:
DK STRONG Against Summoner Slayer Grow Lancer
DK NEUTRAL Against Rage Fighter Magic Gladiator Rage Fighter
DK WEAK Against Dark Wizard Rune Wizard Elf
(more info in guides section on
Shadow MU Online Season 15
)
Balanced PVM System:
All monsters are buffed incrementally, the higher the map, the stronger the monsters. Fun progression through the game, and a chance to explore every map one by one. Play MU like it was supposed to be played.
Invasions and Bosses:
Epic Invasions every 30 minutes. Hunt NEW invasions like Hell Spawn Invasion, Infernal Dragon Invasion, Shadow Invasion and more!
Reset system!
Reset costs: 1mil zen * reset
After reset, stats are burned, all stat points become 200 and you get 500 free points * reset!
Grand reset: 260 reset - Reward 10,000 WCoin
Earn Coins, Spend Coins.
X-ShopBuy or Gift Buffs, Pets, Seals, Jewels, Boxes and other good items.
Offtrade: Sell your items to other players while being offline
Personal store: Sell your items to other players for WCoins
RuudHunt invasions and play in events to win Ruud points. Spend Ruud
Discord Server
Admin team is very active on the discord server for chat, do you have a suggestion, or a complaint? Admin will talk to you. Every player matters.
What makes Shadow MU different?
Unique gameplay, and constant new features from Admin team. Game will not be boring.
Secure server to prevent cheaters and hackers. No tolerance for people who ruin your game.
Stable server with a good connection to guarantee a lag-free gameplay.
We welcome players from every country. Bring your friends and be the best!