Joined

Jun 26, 2010
Messages

238
Reaction score

106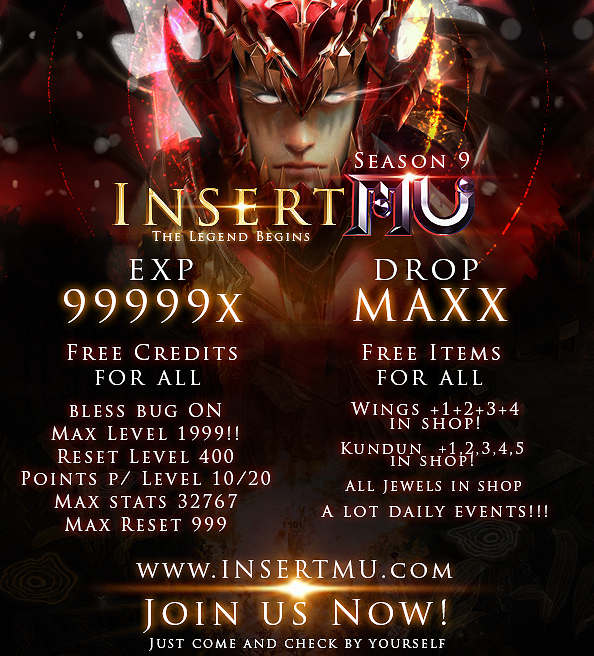 » Quick Links:
* Website: http://insertmu.com/
* Register: http://insertmu.com/index.php?page_id=register
* Download: http://insertmu.com/index.php?page_id=downloads
* Forum: http://muinsert.com/forum/index.php
Server Rates:
Version:
Season 9 FULL
Experience:
9999999999999
x
Drops:
MAXXX
Bless Bug:
ON
Reset Lvl:
400
Max Level:
1999
Reset Zen: 0 mil
Reset Points: Keep
STATS!
Points Per Level:
15/20
Wings
1,2,3,4
Level in Shop !
Maximum Stats:
32767!
Max Resets: 999
Clear Inventory: No
Clear Skills: No
Clear Stats: No
Server Features:
Balanced PVP
F.O Items/GodLike Items
Golden Invasion
New Maps
New Skills
Spots in all Maps
WebShop: On (buy using credits)
Market: On (buy and sell system)
Trade Off system
Grand Reset: 3k credits reward
Vote and Get Reward
Support for Many Languages Online.
Active Staff.
Commands in Game:
/re on, /re off (Turn on/off requests)
/request on, /request off (Turn on/off requests)
/partyleader Name (Changing leader for party)
/move Arena (Teleport to another location)
/warp Arena (Teleport to another location)
/addstr 32767 (Adding Strength Stats)
/addagi 32767 (Adding Agility Stats)
/addvit 32767 (Adding Vitality Stats)
/addene 32767 (Adding Energy Stats)
/addcom 32767 (Adding Command Stats)
/offtrade (Offline trade request using Store)
/vault 1 (Up to 5 vaults and 5 extended vaults available)
/guildwar GuildName
/battlesoccer GuildName
About US:
Server made for true mu online max style fans, fast level ups (exp: x9999), fast resets,
easy to get best gear, to start PVP and participate in guild wars and PVP events!
Get maxed fast and to free mu online world from evil bosses which will bring best loot!
If this settings interest you, this server is for YOU!
InsertMU since 2010!
Last edited: