Joined

Jul 15, 2008
Messages

72
Reaction score

35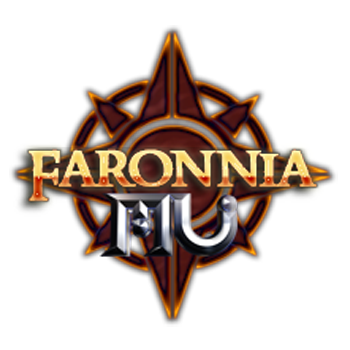 The
Legendary
MU Online
server is back!
04.08.2019 - SUNDAY 12:00 GMT+1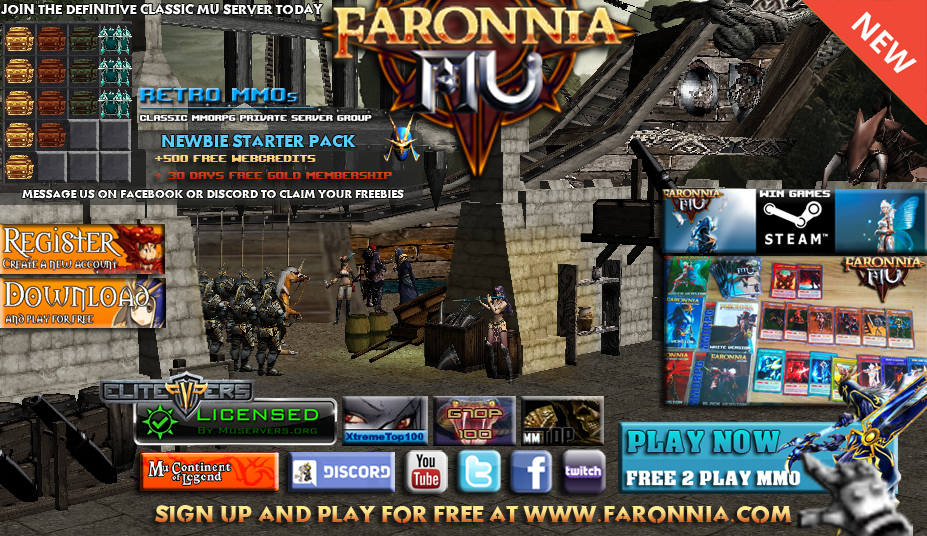 MAIN WEBSITE : https://faronnia.com
WIKI SITE : https://wiki.faronnia.com
DISCORD COMMUNITY : https://discord.gg/3gf7yFb
CREATE NEW ACCOUNT : https://faronnia.com/register
GAME DOWNLOAD : https://faronnia.com/downloads
COMPANY WEBSITE : https://retrommorpg.com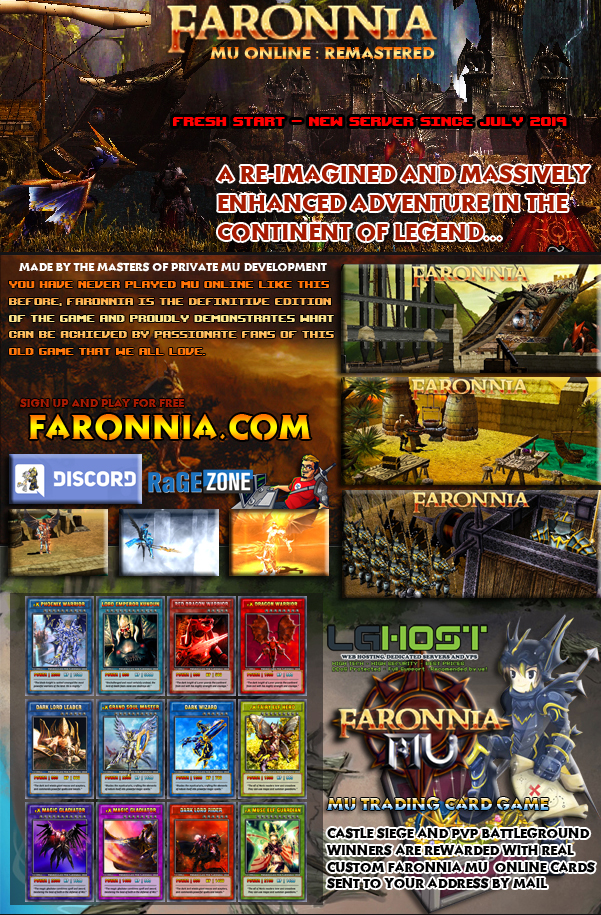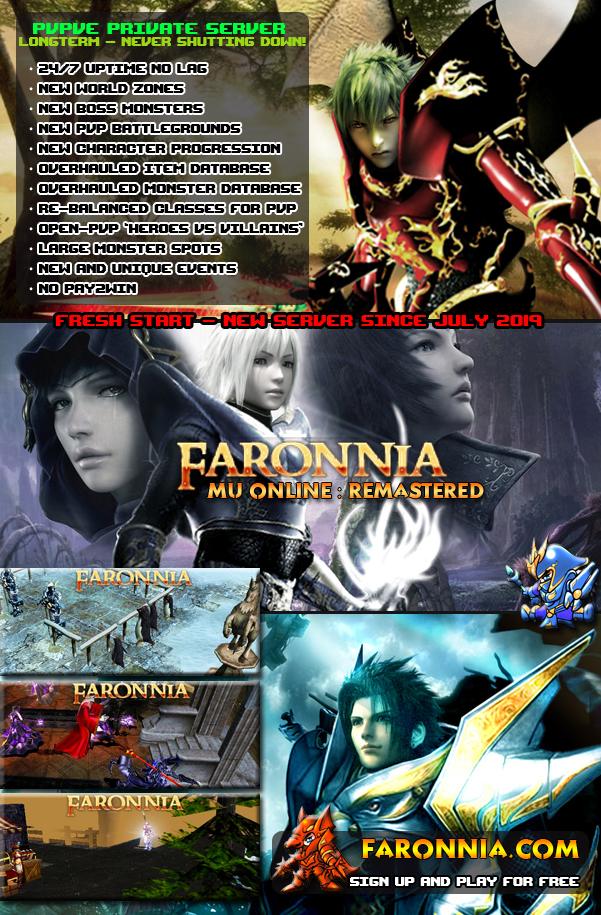 ​
Behold, mutiziens!
The
ultimate MU Online private server for fans
of the game has returned once again!
Are you ready for a
fresh, re-imagined and massively improved adventure
in the continent of legend?
Then you are in the right place, and we welcome you back into the world of MU.
Only this time, things are a little bit different...
Demon Lord Kundun

and his army of darkness are on the move. With him are his

Undead Generals

, each leading an army with a terrible force of destruction.

The continent of MU will be ruined

, its free people purged in fire, non being able to stand on their own against these

terrible forces of evil

.

And if things didn't seem bad enough, some disturbance has awoken an

ancient and terrible power

deep within the abandoned ruins of

Kanturu

.

The Elder Council assembles

within the walls of Loren Castle. With them are the military commanders of each province:

The knights of Loren

, trained warriors of the sword, men with valor and a sense of honor.

The powerful mages of the Magic Academy

in Devias territory, students of spellcraft who quest for acquisition of higher power. And finally

the Elven race of Noria

, the forest realm of the Fairy Elves, women with crossbows, longbows, and battle axes, each and everyone one of them dedicated to serving their Queen and her

kingdom of nature and magic

.

Great Lords join us in this dark hour, masterful men who have

ascended in spirit and in power

.

Proud Gladiators of Sword and Magic

have answered the summons, ready for a chance to unleash their terrific battle prowess onto the demon hordes.

Darkness is threatening the continent,

spirits are disturbed and vengeful

, and the races of MU agree on uniting their forces to prevent the

collapse of Loren

and its surrounding provinces.

The time has come for you to

wield your weapons and join us

, faronnian, in an epic world of battles and glory! Forge your alliances, destroy your ennemies, plunder your treasures, and experience

the ultimate remastered MU Online server

there ever was.

There are 3 things that I look for in MU Online:
A sense of adventure and excitement
A sense of character progression that feels rewarding
Fair and balanced gameplay, both in PvE and PvP
These are the 3 core principals that I have always followed with my work and modifications.
# MU Server Features and Custom Modifications
Gameserver :

C++ custom emulator developped by Shatter, 100% complete and bug-free!

Game client :

Cleaned, optimized and modified with 3-d camera support, F10 MuHelper/Autoclicker, no lag, widescreen mode, fog, glow, reduced cpu and memory usage, improved graphics engine, new and original HD textures, anticheat system, new music and improved sound effects, etc.

World Boss monster spawns :

Monsters such as Death Vim Knight, Hell Maine, Metal Balrog, Cursed King, Dark Phoenix, Erohim, and many more are now configured to spawn like 'World Bosses' would in any other MMORPG, and drop rare and quality loot accordingly.

Character progression system :

Private servers made 1 big mistake... with increased experience rates, leveling and gear progression is made faster. This causes for a lot of armor sets and weapons to become useless, since you can equip much better gear with higher attack and defense ratings early on in the game.

We have modified the complete Item Database so that upgrading to better equipment takes more time, and more stats, making the progression more satisfying, and making better use of the lower-tier armor sets and weapons available in the game.

We also feature a character rebirth/reset system, which has become fundamental to our server because of how its designed and balanced. At level 400, you re-start at Level 1, but with 500 free stat points to add to your character. And every time your character resets, you get 500 more stat points. So at 1 reset, you start with 500 stats, at 2 resets you start with 1000, at 3 resets you start with 1500, etc.

We have limited maximum stats to 25,000 points (per different stat) for the first chapter of our new server.

We believe that there should be a limit, as it keeps the PvE and PvP balanced, fair and fun.

Map zones and monsters overhaul :

Probably the most outstanding feature is our new and improved towns and zones. These are not re-skins, these are expanded and improved zones that retain the original MU look and feel. Lorencia now has a dock, and the town center is 4 times the size of what it originally was. Devias has a guild hall, an arena, houses, sitting areas... penguins. The entrance to Devil Square in Noria is now a portal in the new and expanded elven city. The Dungeon zones have been heavily re-worked, now featuring extremely good monster spots and even a new safe zone! Tarkan has a fortified outpost out in the middle of the dangerous desert, and the Arena/Stadium map has been fully built-upon, now featuring fortresses, pvp-game combat zones, a labyrinth, pve battlefields, and much more!

Just like the item database, we have reworked the complete Monster Database, increasing the difficulty curve as you progress to newer areas and fighting stronger monsters. Now you will need a few resets to even survive in zones like Aida, Crywolf and Kanturu. Monster drops have been configured to ensure that hunting monsters and looting their drops is fair, rewarding and satisfying.

Re-balanced classes for PvE and PvP :

Thanks to the full control we have over our gameserver settings, we have re-balanced all classes and skills to try and improve the overall PvE and most importantly the PvP experience for all character classes. We believe players are happy with the way we have configured it at the moment, but we have the possibility of changing and improving the formula in the future if need be!

EX items limited to 2 exc options :

Nobody should care for unbalanced and overpowered gear. The satisfaction is gear progression should be in the choices you are able to make with what you want out of your armor set and your weapon. Therefore we limit all EX items to a maximum of 2 exc options.

Ancient items modifications :

You are now able to add Jewel of Harmony to Ancient armor and weapons. We also have plans to release EX Ancient items for special events.

Original quests and events with modifications :

Blood castle is expanded with new zones and challenges and offer x2 experience points gain when killing monsters in BC.

Devil Square monsters drop much better loot and jewels.

Chaos Castle drops plenty of jewels, its a mad-jewel-fest!

Loren Deep Invasion drops much more interesting loot.

We feature all retail quests and events such as Castle Siege, Crywolf, Kanturu, Kalima, Golden Monsters, Red Dragon Invasion, Skeleton Lord invasion, White Wizard and Orc invasion, Illusion Temple, Golden Archer NPC, class transger quests, and of course our own custom events built-into our re-designed map zones!

Large and diverse monster spots :

There is no reason the explore the world of MU if most zones are empty. There is no such thing here, all locations of interests are now loaded with monsters. No more wondering around looking for monsters to hunt, you will have little trouble in your ultimate quest for glory. The 'main monster spots' are all listed on our Discord server with screenshots.

Heroes VS Villains :

There is no limit to the drama and the chaos that can take place within the world of MU. We allow KS, we allow PK, we allow offensive language, we allow the game to be played as it should be. Missing the old and unmoderated mu climate? No need to look further, it is right here.

About our webshop and monetization :

This server operates at a full-business-scale function level... we pay up to $400 per month to cover all server, web and domain hosting fees, licensing costs, development costs and advertising (mmo topsites, facebook, youtube and google etc.).

A professional server that is run like a business to make as much money as possible IS NOT what we are about.

We do not sell any armor sets in our webshop, we do not directly sell jewels, and we do not sell the complete assortment of weapons. Everything we feature in our webshop has been checked and verified in accordance to what players expect in terms of fairness.

We also offer a Gold Membership plan, where you are upgraded from 100x to 150x experience rate, you are blessed with a +15% item drop, and receive a 10% discount on all webshop purchases.

Server information :

24/7 Uptime on dedicated server located in France, EU.

DDoS flood protected, 100/mbps network speed, powered by LG Host which we recommend!
ABOUT US AND THE TEAM
A powerful team for a strong and longterm server.
Lead Programmer and Developer :
Shatter
(previously at Coderz Factory)
Lead Designer, Admin and Owner :
Milamber
(me)
Co-Administrator :
KarLi
(from MURPG)
Server Technician :
Mecanik
(from LGHOST)
Head GameMaster :
GM Devastator
(previously at Heroia MU)
Other famous GMs :
Tak Marche, Caviar, MuIsBest, Dragon-GR, MisterPronka, bramdebouvere
We are looking to grow the team, especially with our GM team.
Contact us on Discord if you are interested in a position on the team.
SERVER VERSION AND RATES
Gameserver settings and configurations...
MU Online version : SEASON 3 EPISODE 1 (modified) Exp Rate : 100x

/

GOLD Membership Exp Rate : 150x Item Drop : 50%

/

GOLD Membership Item Drop : 65%

-

Max Resets : 50 / Max Grand Resets : FEATURE NOT YET AVAILABLE

Max Item Level : +13 / Max Item OptionLevel : +28

-

Rebalanced character classes for PvP and PvE

No 'Shadow Phantom Soldier' elf buff NPC (remove for true classic style)

-

Server location : FRANCE / EUROPE

Server connection : INTERNATIONAL

------------------------------------------------------------------------------------------

[SERVER_SETTINGS]

Server type : Open PvPvE

Castle Siege : YES

Guild Create Level : 300

Character Stats Limit : 25,000

Item Exc.Options Limit : 2

Ancient Items + Jewel of Harmony : YES

Ancient Items + Exc.Options : YES

Inventory/Vault Max Zen : 2,000,000,000

-

[PK_SETTINGS]

NPC Guard clear PK Status : YES

Clear PK Status multiplied cost per kill: 5,000,000 zen

PK Time per kill : 1 Hour

PK Item Drop chance : 2%

[JEWELS]

Jewel of Soul success rate : 60%

Jewel of Soul +Luck success rate : 85%

Jewel of Life success rate : 70%

-

[ITEMLEVEL_ENHANCEMENTS]

Item+10 Enhance success rate : 70%

Item+11 Enhance success rate : 60%

Item+12 Enhance success rate : 50%

Item+13 Enhance success rate : 40%

-

[FENRIR_MIXRATES]

Fenrir Level1 Creation success rate : 70%

Fenrir Level2 Creation success rate : 50%

Fenrir Level3 Creation success rate : 30%

-

[HARMONY_JEWEL]

Purity success rate : 80%

Purity cost : 15,000,000 zen

Smelting cost : 5,000,000 zen

Item Strengthen success rate : 80%

[COMMAND_INFO] /offtrade

- Logout of game but character stay ingame with personal shop on.

/post

- Global chat command

/str /agi /vit /ene

- Add stats ingame

F9

- Activate 3-D camera if enabled in Config.ini file

F10

- Activate MuHelper/Autoclicker

-

[ADD_STATS]

Requires character re-log : YES

Add stats commands : /str , /agi , /vit , /ene , /cmd

Minimum character level requirement : 6

------------------------------------------------------------------------------------------

[RESET_SYSTEM]

Reset Stats: YES

Reset Quests: NO

Reset Inventory: NO

Reset Personal Shop: NO

Reset character level requirement : 400

Reset cost : 100,000,000 zen

Multiplied Bonus StatPoints per reset : 500 (x Total Resets)

Maximum resets : 50
[VIDEO]
GAME SCREENSHOTS
https://retrommorpg.com

We hope you join and enjoy Faronnia MU!
Feel free to leave a reply and I will try and answer you as soon as possible.
Last edited: